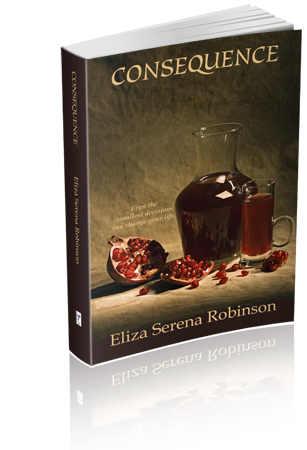 Book One, The Three Stages trilogy
Teenage/Young adult
Futuristic/ Romance
Three centuries from now, in what remains of Europe after a series of catastrophic earthquakes and an asteroid which change the world, unlikely friendships are forged, and lives changed forever. Three teenagers meet in a palace in Moscow, not knowing how their actions will affect each other's lives.
Two girls: Persephone, stubborn, loyal, and beautiful; and Phoenix, complex, scarred and intelligent, fight for what they believe to be right. They soon find out that nothing is as it seems. But what if the greatest mystery of all is Persephone herself? Decisions are made with little thought of the consequences, but will things end happily for them, or will they be thrown into a torrent of disaster, tragedy and loss?
Consequence is available in all good bookshops, and Amazon.
Signed copies from the author are available from this website.
Consequence
Author: Eliza Serena Robinson
ISBN: 978-0-9560344-9-6
224 pages
229mmx152mm
£7.99 (+ P&P)
I was really intrigued to read a published novel by someone so young; I enjoy the occasional teen novel, but they are generally written by adults! And I can say I wasn't disappointed with Consequence. I found myself going to bed earlier to have more time to read! It's fast-paced and really captures the emotional turmoil and intelligent decision-making of these young people forced to find their way through a divided – and dangerous – very different society. The characters are superb.

A refreshing change from vampires and high-school romances – this has mystery, romance, action and a very clever plot that keeps you guessing until the end.

~ Sara, Cheshire

I am in awe and appreciation that this wonderful book emerged from the

heart and inner journeyings of a beautiful 14 year old young woman, whose

potential abounds!!! I have now finished the book, so exciting, and I had not anticipated the surprising end! Well Done, Eliza, I so look forward to the next in the trilogy. I whole heartedly recommend this book

~ Ruth, Cornwall

Read Eliza's Consequence and loved it – amazingly talented for someone so young

~ Cherry, South Australia
Order your signed copy via PayPal
UK
£7.99 (+ £2.50 P&P)
Rest of the world
£7.99 (+ £5.00 P&P)
To write a letter to Eliza please use the contact page >>