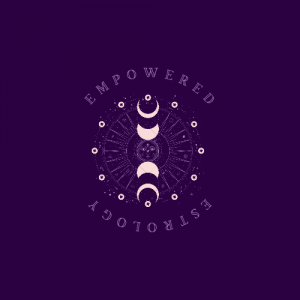 Empowered Estrology is currently closed for readings. Services will reopen after September 15th.
Services:
Birth chart reading £60
Your birth chart is a map of your personality and potential, based on the alignment of the planets at the exact moment of your birth. Through you birth chart, you can learn how you think and communicate, how you love, what your emotional needs are, as well as your greatest challenges, and your deepest wounds. In your birth chart reading, I can help you understand the recurring themes and patterns in your life, and allow you to focus on the parts of yourself that will help you achieve your full potential.
This reading will look at the signs, planets, houses, and interplanetary aspects of your birth chart. Planets and points included in this reading are: chart angles (ascendant, MC, descendant, IC) Sun, Moon, Mercury, Venus, Mars, Jupiter, Saturn, Neptune, Uranus, Pluto, Chiron, and North Node.
Astrological weather forecast – transits reading £60
The planets are in constant motion. As the celestial bodies move through the zodiac, they form aspects to the planets in your natal chart. That feeling of renewal and celebration on your birthday? That is because the sun has returned to the exact same spot it was in when you were born, and lights up that area of your chart. Everything from the Terrible Twos, to teenage angst, to your midlife crisis, can be looked at through the lens of astrological transits. In your astrological weather forecast reading, I will provide insight about the energies you will be dealing with over the next six months, and explain the relationship between your current experiences and the blueprint mapped out in your birth chart. Whilst I won't make specific predictions about events in your life, transit readings are a tool to help you utilise the upcoming planetary energy, and work with the planets to focus on the themes that are highlighted for you in the coming six months.
Testimonials:
"Eliza is an excellent astrologer, who offers insightful, in-depth readings. My recent session with her provided me with much clarity and understanding of my current obstacles, and helped me to reach new perspectives.
Through this work, Eliza shows empathy, intelligence and kindness; I cannot recommend her enough. 10/10." — Cassie Roberts
"Before I met Eliza all I knew about astrology was that I was that I was an Aries. Now I am the person at a party who will ask if you know your rising and moon sign, or if I can have your birth time/place to get your birth chart. Whether you are an astrology novice or a pro Eliza will give you an astrology reading perfectly suited for your level of understanding. In the past Eliza's astrology knowledge has helped me see how well my crush and I fit together, why my week at work was especially tough, or why I am incredibly competitive when it comes to board games. I cannot recommend her services enough." — Manon Klatt
"Eliza's in-depth knowledge of astrology is astonishing. She has one look at your chart and she instantly knows more about yourself than your own parents do. She can explain things to you, about your behaviour and your character, that have never made sense before but suddenly do. She only needs your place, date and time of birth for a thorough analysis of what it means to be you. If some astrology terms are new to you, she'll explain them with patience and enthusiasm. There's no better person to read your chart than Eliza!" — Ragna Amling
"I highly recommend Eliza Robinson for anyone looking for a reliable astrologer. I received a very extensive and accurate birth chart reading from her a couple of years ago and since then she has gained even more knowledge in the field. Most importantly, Eliza was very compassionate and truly cared about helping me to understand myself better, which allowed me to make better life choices in the future." — Vilma Rugytė
How to book a reading:
To book a reading, please fill out the form below, email info@elizaserenarobinson.com, or direct message @The_E_strology on Twitter or Instagram. Before booking a reading, please make sure that you have an accurate time of birth. Readings can be paid for through PayPal, or by bank transfer.
When booking a reading, please include your day/month/year and time of birth, as well as the name of the city and country you were born in. Without this information, I cannot proceed with the reading.
All readings will be emailed to you as PDF or Word documents. If you book your reading through Instagram or Twitter, please include an email address for me to send the reading to.
You can also purchase gift vouchers to buy a reading for a friend, but only if they know their time of birth.