I don't go on holidays, I go on pilgrimages. Today's journey of worship/quest for higher knowledge takes me to Glasgow, which will be my university town, come September (assuming all goes well with exam results).
The trip got off to a classic Eliza-style start. (No, I didn't get on the wrong train!) I was standing on Penrith station's platform 2, the sun beating down against the synthetic wool of my black cardigan, like a threat of overheating and yucky sweatiness to come, when I felt the tips of my hair (swept up in a power ponytail) tickling the back of my neck.
A vision flashed in my head: an image of myself, brushing the tangles from my hair. That's when it hit me: I had no recollection of packing my hairbrush. I ran through it, step-by-step, in my mind. Where had I last seen it? On my chest of drawers, in front of my mirror, next to my…toiletry bag. Oh no! I hadn't! It was zipped up and everything, just WAITING to go in my bag. Waiting, yes. But did it make the journey? No.
I have no hairbrush, no toothbrush, toothpaste, moisturizer, foundation, shampoo, etc. I responded as I always do to my travel blunders. I laughed at my stupidity, and at the ridiculousness of the situation. It's funny. The tenner-or-so I'm now going to have to spend in Superdrug isn't funny, but my evidenced ineptitude is. At least I'm on the right train. And Glasgow Central is the end of the line, so I can't get off at the wrong stop (I hope!)
*********
I think I'm in Scotland now. I'm not a hundred percent sure, because I was reading the "Thelma & Louise" script, so I didn't notice any signs. All I know is that we're somewhere between Carlisle and Lockerbie, and that it's beautiful here. Pine trees garnish the crests of rolling hills, which give way to fields thick with heather. We MUST be in Scotland.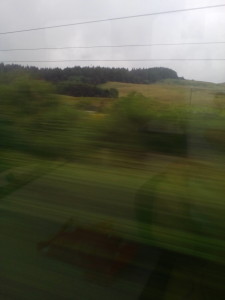 Yes, the train is pulling into Lockerbie now. Lilac bushes teeter over wire fences.
As the train leaves Lockerbie, I see stacks of logs in a timberyard out my window, and patchwork hills in the distance.
I live in a beautiful part of England — I live near the places which inspired the Romantic poets — but there is something about Scotland which grabs my heart and clutches it in a way that England never can. There is a ruggedness here, a wilderness, that is perhaps energetic, a remnant of this country's turbulent history. I don't know. But the writer in me will always find a home of sorts amongst these pine forests and skies filled with grey clouds, a colour between coal dust and cobwebs.
*****
You know you're in Scotland when you look out the window and it's raining, raining, raining. It all adds to the atmosphere, I suppose. Though I hope its dry when I get to Glasgow, even if that means I won't get the authentic Glaswegian experience. I'm wearing sandals — rain is the last thing I need!
It strikes me suddenly how easy, how natural it is for me to write like this. Two weeks ago, I was sitting at a bus stop in Võsu, scribbling away about my final day in "Little House on the Prairie" hell. I've hardly written a word of nonfiction since then (unless tweets count). I've been too busy working on editing my rewrite of CONSEQUENCE. I've missed journalling though. Perhaps when I'm in university, I will write a blog, chronicling my time there. I'm sure that would be…entertaining.
It's 11 minutes past 10. I listen to Saving Jane's "Autumn and Me", whilst messaging my friend and future coursemate, instructing her on how to set up a British bank account (she's from Italy).
In spite of the grey skies out my window — so emblematic of the North — I see a bright future ahead of me. A future with friendships.
The ultimate friendship goal for me is Phoenix and Persephone from my book CONSEQUENCE (or certainly the new version of it). So when I look for an ultimate, once-in-a-lifetime best friend, I look for someone to be my Persephone (or my Phoenix, depending on which character I relate to most).
I don't mean "I'm looking for a real-life equivalent of my character, because that would be weird (and awesome!). What I mean is that bond, that "I will love you no matter how much you annoy me", that "I will stick by you even when you start a revolution" type thing (which is a requirement).
Having a friend always feels like such a new thing to me, and there are times when I feel so giddy, because I have someone to make plans with, someone to talk to, someone who actually messages me first! I will never take that for granted, because to me, it is precious.
******
I'm sitting in the front room of the Blue Sky Hostel, waiting to be shown to my room. A group of blonde Americans and Russians (?) sit in front of me, eating dry granola straight from the bag, and slapping rhythmically on a drum. They strike me as the kind of people who would smoke weed — it's just a vibe I'm getting.
Well, you get what you pay for. I feel like these next two days are going to be hilarious. Oh my god, I heard someone mentioning drug deals! I *think* she was joking, but you can never be sure.
There's a random toothbrush on the floor. This place is weird.
But I'm taking it all in my stride. Hey, at least they have running water! Unlike SOME places I've stayed recently…
On the bright side, Google maps is being the kind, supportive app I always believed it had the potential to be.
Right now, I want lunch, but I have to wait till 12 for someone to show me to my room. 10 minutes. Can my stomach survive such a wait?
********
It's 24 minutes past six, and I now sit in a vegan café called Mono, drinking mango green tea lemonade. I've spent the past six hours walking around, and I have a killer headache to show for it. In spite of the headache, I feel great joy to be in a place where I can order anything from the menu.
When I left the hostel, I decided to walk to the university. I stopped at a Belgian chip shop called Pomme Frittes, for a ridiculously large cone of chips, then headed for the university (I could see signs for Kelvingrove park, so I knew I couldn't be going in completely the wrong direction).
https://www.instagram.com/p/BIKXKrKAYsg/
I wandered around the university buildings for a while. The place looks like Hogwarts! I meandered through cloisters and courtyards, taking photos to spam my friend with. I then walked down to Byres Road, and went to Juice Garden. It was raining by this point, so I sat inside, and drank an apple/strawberry/pineapple smoothie.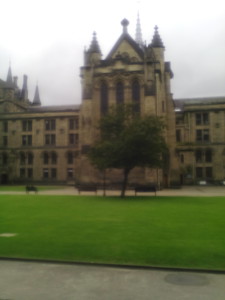 I'd planned to take the subway to the city centre, but the whole subway system is closed for repairs, so I walked. I walked for two freaking miles. In sandals. I wandered around streets and shops for a while, bought a hairbrush, etc, to replace the things I left at home, and somehow it was 5 o'clock already.
After even more walking around, I came here, to Mono, which was a marvelous decision. I ordered a vegan "ham", pineapple, and jalapeño pizza, with Cajun spiced chips. I ate way too much, and I'll probably be bloated for all eternity from the gluten, but I have zero regrets.
******
It took me ages to get back to the hostel, because my phone battery was nearly dead, so I didn't want to risk Google maps. I still had a dreadful headache, so I had a (cold, ggrrrr) shower, and went straight to (uncomfortable) bed. I was woken at exactly 23:41 by the sound of two Scottish men, and one Australian one having a loud, jolly conversation, peppered with swearwords.
That's hostels for you. Or, should I say, that's Glasgow for you.