27th June —
Morning:
On the plane to Tallinn (still in Gatwick airport, yet to take off). I hear Estonian speech coming through on the speakers, and get excited when I recognise a word, which is surprising, given that I only know about 5 words + numbers 1–10 in Estonian. The word was neli (4).
In the row next to me are an American couple from Seattle, who are cliché in everything from dress to manner.
The air hostesses go through the safety proceedure, miming in unison. I try hard not to laugh at their synchronized movements.
****************************************
The clouds are like giant, fluffy icebergs! England is topsy turvy below me (landscape, not politics, though the term could be applied to both right now).
We're flying, and we're above the clouds, and my ears pop. I chew gum dutifully.
The clouds are like a landscape of snow, in layers and layers, and I want to laugh with this giddy joy I feel. At the same time, I kind of want to puke.
Dido's "Sand In My Shoes" blares like an anthem through my earphones, and I stare out the window, into the Heavens. And I daydream.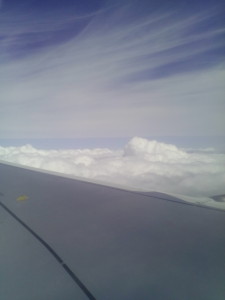 ****************************************
If I'm being honest, my first night in Tallin majorly sucked.
It started off fine… I remember the excitement I felt as the plane descended into Tallinn airport, the first glimpse of Estonia as we penetrated the thick white clouds. The way the raindrops danced on my window…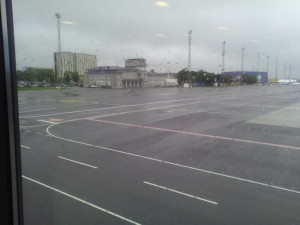 Tallinn airport is adorable — absolutely tiny, compared with Gatwick — and all the signs are in English as well as Estonian.
My AirBnB hosts collected me from the airport, and dropped me off at my flat. The woman, Jelena, chatted with her husband, Pavel, in Russian, encouraging him to make small talk with me. Every-so-often, I'd hear a word similar to its English equivilent, and know they were talking about me. I hate small talk with a passion, and that's when it's with a person with whom I share a first language!
Within two minutes of getting in that car, he'd asked my opinion on Brexit.
My flat is a studio in the Kristiine district, situated on the second-to-top floor of what I think must be a Soviet era apartment block. I couldn't wait to go exploring, to see the city… There are paper maps in my flat, but I decided to just use the Google maps app on my phone, because I read online that there's public WiFi practically everywhere.
Was there WiFi? Yes. Was it public? No. Did my Google maps app work? No. Did I continue walking without a map? Yes. Did I get lost and walk around in circles in the wrong direction for three hours? Yes.
I made 3 key mistakes:
1) I went a-wandering without a map.
2) I went on an empty stomach.
3) I convinced myself I would end up in the right place if I kept on walking.
The whole idea of AirBnB accommodation is that you get to experience the area as a local, rather than a tourist. I tried to live like a local, whilst still playing the tourist, and it backfired on me.
The most terrifying thing in the world for me is not being able to communicate. I was in a country where I could only speak a handful of words of the language, and I wanted to cry. At least when I was lost in London, I could ask for directions!
The thing about living in Britain is that you forget that there are countries where English isn't the first language. Although I read online that many Estonians speak English, I was scared to ask.
Eventually, my hunger got the better of me, and I went into a Statoil (Service Station) to buy food. Being a vegan in a country where you don't know the language enough to check the ingredients on food? Now THAT is terrifying!
I eventually found some Finnish garlic rye chips, which had ingredients in English (thank you Linkosuo!) and a bottle of fruit juice. I then conducted my first exchange in Estonian. I said hello 5 times, gave a €5 euro note rather than a €10, and said please instead of thank you. At least the lady was friendly…
I walked some more, and ended up in the wrong district. But I — on the verge of tears, muttering to myself things like "Google maps is a liar! Pinterest is a liar!" — found salvation in the form of Selver, a supermarket.
I didn't have high hopes for finding much vegan food, but as I wandered down the chilled isle, something caught my eye: the word vegan! On a tub of margarine! Then I found vegan cheese, and tofu, and soy milk, and rice milk, and soy ice cream. And, most importantly, Alpro soya chocolate milk. Nothing is more comforting than finding something familiar in an alien place.
I was served at the checkout by an unfriendly woman called Svetlana, who scowled at me because I couldn't understand her.
I traced my steps back towards "home", and got ridiculously lost (with two heavy plastic bags of shopping, cutting into my arms) because all the Statoils are identical. I stopped outside one to use the WiFi, and Google maps told me I was an hour away. I nearly broke down. My arms were sore, and the ice cream was melting, and I couldn't ask for help because I don't speak the language.
Then, waiting at the traffic light (they don't have buttons, you just have to wait), a tall, blonde man comes up to me and says something in Estonian. I, my voice breaking and tears spilling from my eyes, said "I'm sorry, I don't speak Estonian". And he speaks to me in English! He asks if I need help! I babble out the entire story of being lost and wandering around for hours. He asks where I'm trying to find. I tell him the street, but not the address. It was just across the road!
(Thank you, kind Estonian man)
I went back to my flat and ate lots of rye bread, and watched Estonian TV. Then I discovered the TV had Netflix, so I watched an episode of Jessica Jones, and nearly cried to hear my own language.
I stayed up past 1, and it still wasn't properly dark outside.
What did I learn today? I need to lose my expectations of this country, and learn about the real Estonia, the real Tallinn, not the version of it in my head.
And I need to be brave.
28th June —
Last night, as I lay in bed, feeling sorry for myself as I watched the sun setting in the pink sky, over a beautiful city, I wondered to myself if, maybe, after this trip is over, I should only travel to English-speaking countries. Because I'm scared of not being able to communicate.
I woke up sad in to a view of a sunny city. What's wrong with me?


But I'm not a quitter! I made myself a big breakfast of cereal, coffee, and fried tofu on rye toast, and I'm ready to timidly conquer the world. I have a game plan: full stomach, bring lots of water and snacks, and a good old fashioned paper map!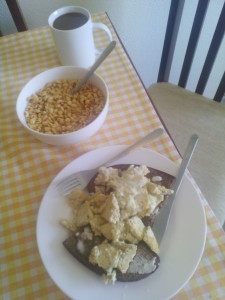 As a favourite teacher of mine once told me, way back in year 12, I'm a "bouncer backer".
So today, I'm going to bounce back.
********************************************
Today has been infinitely better than yesterday. I set off on my pilgrimage to the settings of my novels, and actually went in the right direction this time!
I stopped at a cute little kiosk outside Kristiine Keskus to buy raspberries, and actually managed to complete the entire exchange in Estonian (making use of the 5 words in my vocabulary).

Then, fingers sticky with raspberry juice, sun shining on my back, I headed towards the Old Town, filled with hope and bravery. I didn't want to leave my flat this morning, but I know my fears are far less scary when I confront them head on.
I walked, and walked, and walked. I walked past beautiful buildings, I photographed a few. I walked some more. And then, against the top of the horizon, I saw the top of a high-rise building some 23 storeys high, with the words "Hotel Viru".


People who've read CONSEQUENCE will know that this building is a hugely significant setting within my books. I squealed when I saw it. It was real, a place from my books was actually real, and I had actually found it. My pace (and pulse) quickened as I made my way towards it.
I stopped in Freedom Square to take some pictures, and continued.


When I actually stood across the street from Hotel Viru, my character Phoenix was going completely nuts in my head, sobbing because I'd brought her home, I'd brought THEM home. She and I (yes, I talk about my characters like they're real), stared up at the building. It was surreal.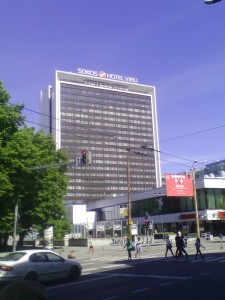 Me and the figment of my imagination (love you, Phoenix!) then decided that just looking wasn't enough, and that I had to actually touch the building.

Did I go and randomly feel up a building on the say so of a fictional character/ voice in my head? Yes, why ever not?
The next stop on my pilgrimage was Raekoja Plats, where the Tsar murders Persephone and Drew at the end of CONSEQUENCE. I entered the Old Town through Viru Gate, and soon reached Raekoja Plats (Town Hall Square).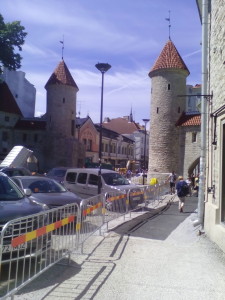 It was bustling with Chinese tourists, and people in medieval costumes, but I pictured it empty. I pictured Persephone and Abynechka sheltering under the Raekoda arches in the pouring rain, as Kai runs to comfort Phoenix (a new scene in the rewrite). I pictured Persephone's rousing speech to stir up war against the Tsar. And I pictured him murdering Drew, murdering Persephone.


I wandered around, choosing the best spot for the scene. Which cobblestones would be most comfortable for their corpses? Where would provide the most cinematic view? I decided the best spot would be in the shadow of the Raekoda turret — a metaphor for the shadow cast by their deaths.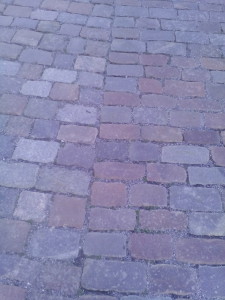 After making that important decision, I set off for lunch. The vegan dilemma meant my options were limited, so I chose Kohvik Inspiratsion. I got rather lost — no thanks to Google maps and a bad WiFi connection — but I found my way eventually.
The waitress spoke English, thank god. I had white bean and mushroom sausages with braised potatoes and red cabbage, and a raspberry and mint smoothie. It was absolutely lovely.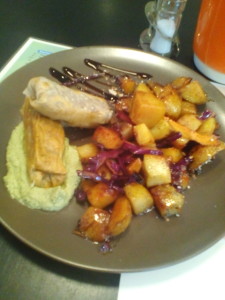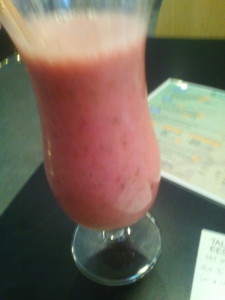 After lunch, I let myself get purposefully lost, and wandered through the picturesque medieval streets of the Old Town. I ended up at the beach. A very stony beach. They should call this country It'sStonyHere. Oh wait!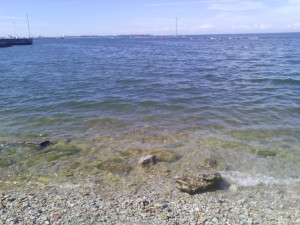 I took off my sandals, and paddled in the Baltic sea, then, idiot that I am, I attempted to navigate my way across the pebbles (and, to my horror, shards of glass!). I eventually gave up, and sat down on a large block of concrete, and stared into the Gulf of Finland. The sea was a divine shade of blue, and I felt infinitely at peace. That is, until I realised the waves were getting bigger and bigger, and were inches away from my handbag. Still barefoot, I ran.

I walked back into the city. For a while, I sat under the shade of the trees near Hotel Viru.
I saw two girls who looked like Phoenix and Persephone, which made me very, very excited
Overall, I loved my second day in Tallinn. My feet are blistered, my legs are sore, and my arms are somewhere between tanned and burnt. But today, I developed a new connection to my characters and my book, and I'm glad I came here, glad I left my comfort zone behind.
The language barrier is hard — I am traumatised by my inability to communicate. Words and language are such a part of my identity — hell, they're the reason I'm here in the first place — and I feel infinitely weakened by their loss. Language connects us in a way nothing else does, it breeds a sense of community I'd never noticed before. I feel more lonely here than I've ever felt in my life, and it's harrowing. I've cried a fair bit both yesterday, and today. But I'm here, I've made it, and I'm the toughest crybaby I know. I can do this!